Post One of a Series on "Returning to A Renaissance In Buffalo"
Last year was a momentous one for me on many levels. My new firm completed its first full year, I turned 50 (how is that even possible?!), I went to Paris for the first time and I find myself living in a new, old building in a new, old city.  Frequent readers of this page will know that over the past five years I have been spending more and more time in my hometown of Buffalo.  And now, after 25 years of living in New York City, Seattle, and Washington, DC, splitting my time for the past three years between DC, North Carolina and Buffalo (because of work commitments and family responsibility), we decided we needed to streamline our lives and condense at least to two places!  So, as my Southern fella begins a phased restoration on his historic house in North Carolina, I find myself consolidating my business in a dream 2-story loft in Buffalo with all my books, furniture and cats in the same place for the first time in about 9 years!
A New Use With a New, Old Face
So what's it like moving back to your hometown after a lifetime of living elsewhere?  It's only been about two months so I'm still settling in, but I have the best apartment I've ever lived in.  For the same price as my 500 square foot studio in DC, I have a 2-story 2,000 square foot, brand new loft with a 24/7 doorman and secure parking.  It wasn't easy finding my place and I am ever grateful to my leasing agent at Ellicott Development who showed me this place while it was still under construction.  I could not have designed a more perfect place for my life and work.  The building itself has an interesting story and it's located on one of the most storied and challenging blocks in downtown Buffalo – the "500 Block."
The Gamler's Jewelers Building in the 500 block of Main Street dates back over a century.  A three-story commercial brick building was built in the heart of downtown in 1902.  Harry Gamler bought the building and built a new storefront in 1934 to showcase his jewelry store.  Gamler's remained there until 1995.  The biggest alteration occurred in 1963, when the historic cast iron storefronts were removed sadly and replaced with a solid marble front. Ellicott Development purchased the building and the adjacent Berger's Department Store in the early 2000s.  Berger's, which had also been vacant for years and threatened with demolition, was converted to 30 loft-style apartments with ground floor commercial, and renamed the Belesario.  The "solid" façade on the Gamler's building was replaced with a new façade to recall the historic.  For whatever reason, Gamler's basically sat vacant until this year, when it was converted to ground floor commercial and two market-rate lofts above.  I was the first person to move in, and the other apartment and commercial space have not yet found tenants.  So, it's incredibly quiet here although sometimes a little eerie.  Located between the Belesario and the Hyatt Hotel, we share the Belesario's doorman and parking and can go into the Hyatt and across the street to Bank of America and Key Center without ever going outside.
I love the fact that I'm living in a repurposed building that's over a century old.  I have my own entrance onto Main Street, and amazing commercial scale windows on both floors. For an architect and painter, the southern light is a dream.  But I also quite appreciate the fact that I'm the first person to live here, so everything is new.  New appliances (all Energy Star of course), and new paint, plaster, wood floors, kitchen and bathrooms.  It really is the best possible combination of old and new.  The only original feature (since this was not residential to begin with) is a cast iron and slate staircase between the floors.
Main Street – Walkable, Free Metro and Vacant Buildings
I cannot deny that the most challenging part of this move has been becoming an urban pioneer on Main Street, particularly the desert that is the "500 Block."  Despite having windows 10' high and 20' wide, I don't need to pull my shades down – there's no one to look in from any of the buildings across the street from me.  Like many American cities, the downtown core in Buffalo was devastated in the 1980s by decentralization, population flight to the suburbs and the resulting malls.  But Buffalo put one other nail in the downtown coffin and that was the misconceived construction of a light rail system on Main Street.  In 1978, construction began on a light rail system that was originally intended to extend throughout the city and suburbs.  Population loss and economic downturns diminished the plans to just one 6.2 mile line that extends from the downtown hockey arena to the South Campus of University at Buffalo.  The line is above ground for the seven stops downtown where no car traffic is allowed.  The decade it took to construct the light rail saw the demise of nearly every commercial business along the street and the lack of traffic has only continued that pattern.  Main Street has never recovered.  There were five grand department stores. All are gone.  Today, there is almost no retail to speak of downtown.  There are almost no services for the growing residential population downtown – no grocery store, one drug store, which is particularly uninviting, and many restaurants are closed on weekends.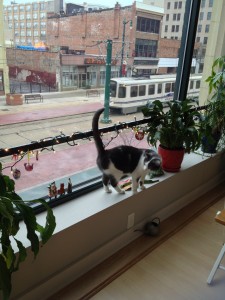 With that said, there is growing momentum downtown, one building at a time.  There is an artists' studio across the street from me that has yoga once a week.  There are two galleries in the same block, although the floors above remain vacant. And more and more buildings are being converted into residential lofts and offices.  But this is all happening through the entrepreneurial spirit of developers, architects, lawyers and other like-minded urban pioneers.  Our municipal leaders seem to have no strategy to fill in the holes or to encourage retail or services.  There is, however, municipal movement on Main Street. Construction starts next year to re-introduce car traffic to several blocks of Main Street.
Big Windows, Big Views
Once Main Street becomes the center of culture again in downtown Buffalo, I will have the best seat in town!  We're perfectly located when the big seasonal events occur.  The New Year's Eve ball drop and fireworks are literally across the street. We welcomed the New Year watching the ball drop and the fireworks with 30,000 people three stories below us in the street in the frigid cold while we got to sit in our comfy chairs, drink champagne and eat apple pie.  It was a very memorable way to toast the New Year.  I love the fact that the light rail train goes right by my windows  – I just look forward to the days that the train cars are full!  It starts going by my window every morning at 5:14 am and I like that I can tell the time by the train.  I like being a voyeur too!  Sometimes I'll just stand or sit by the windows, peering into the other buildings, or watching the street.  I get so excited when people walk by that I wave to them.  Most are a little surprised but then smile and wave back.
So no, it's not New York City or Seattle or Washington, DC.  But it's a city with better architecture than just about any other city on earth, and it's my city.  Happy New Year from Buffalo.
And if you'd like to "subscribe" or follow my blog, True Green Cities, please sign up through the "Subscribe" button at the bottom left of this page. You'll receive a daily recap when new blogs are posted. Or Sign up for the Feed.