Barbara A. Campagna, FAIA, LEED AP BD+C, Principal/Owner
Barbara Campagna was elevated to Fellowship in the AIA in 2009 as "the leading national architect and policymaker for the integration of preservation values into green building practices." She was the co-founder and architectural leader of the National Trust for Historic Preservation's Sustainability Program whose goal was to help professionals and the general public better understand the value of preservation in fostering development that is environmentally and socially sustainable.  Her collaborative approach to design, advocacy and education has elevated the integration of preservation principles into sustainable design to a national level by developing a network of professionals, partners and organizations.
Background
Barbara has dedicated her career to preserving, remaking and reinventing existing and historic places.  She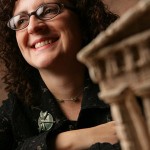 has worked for the past 30 years as an architect, historian and planner whose projects have demonstrated that new technologies can be introduced both artistically and sensitively to preserve our historic resources, while ensuring that all of her work meets the Secretary of the Interior's Standards for the Treatment of Historic Properties.  She has served our architectural heritage in a variety of manners. She has been the Executive Director of a preservation organization in Buffalo, ran her own architecture firm for many years in NYC, served as the Regional Historic Preservation Officer for the Northwest Region of the General Services Administration and from 2006-2011 was the Chief Architect for the 29 historic sites operated by the National Trust for Historic Preservation.  BAC [A+P] brings together all of her experiences – as both a consultant and client – to create a firm that occupies a unique niche in both the historic preservation and green building fields.
Improving Green Rating Systems
Barbara has been the National Trust's liaison with the U.S. Green Building Council (USGBC) since 2007 and has been assisting LEED technical development staff with revisions to LEED, which incorporate preservation, social and cultural metrics into the rating system.  She has served as a guest expert reviewer since 2010, advising and reviewing newly registered projects seeking to use the new LEED Credits for Life Cycle Assessment and Whole Building Reuse.  Barbara continued this work as a special consultant to the National Trust.
National AIA Young Architect of the Year
Barbara received the National AIA Young Architect of the Year award in 2002 for her commitment to the exemplary design and integration of new technologies and science into her preservation projects.  She is a creative and visionary architect who achieves feasible solutions to complex preservation, adaptive use and restoration projects through both her design ability and her capacity to build consensus with diverse constituencies.
Preservation Architect for National Historic Landmarks
As a partner in notable architecture firms, a federal preservation officer and the chief architect of the National Trust, Barbara has completed the restoration of some of the most significant sites in the country including over 25 National Historic Landmarks by architects such as Richardson, Sullivan, Wright, Olmsted & Vaux, Philip Johnson and Mies van der Rohe. Her restoration of the Belvedere Castle in Central Park incorporated sustainable practices over 10 years ago. Nakamura Courthouse in Seattle received LEED Silver and President Lincoln's Cottage Visitor's Education Center in Washington, DC received LEED Gold.  She developed a Best Practices Manual for the Trust's National Historic Landmark sites that includes a special section on sustainability and green housekeeping practices and worked with each of the Trust sites to develop site-wide sustainability programs.  This Manual has been adopted by a variety of statewide and national organizations.  She has created a trademarked plan called "The Greening Plan," which guides owners and tenants in making the right decisions to green their places.
Recipient of the National AIA 2007 Institute Honors Award For Collaborative Achievement as APT President
Barbara's dedication to providing volunteer leadership to nonprofit organizations has promoted partnership between many national organizations.  As the President of the Association for Preservation Technology International (APT), she led the efforts of the organization's Technical Committee on Sustainable Preservation and created the Technical Committee on Modern Heritage. She has been involved in the leadership of APT, a joint American/Canadian nonprofit organization with chapters around the world, since 1990 when she became the President of the New York Chapter. She was the Chair of the APT 50th Anniversary Conference in Buffalo, NY in 2018 and was inducted as an APT Fellow in that same year.   She has been involved in the AIA for her entire career, and when she was the Chair of the Seattle Historic Resources Committee, organized a symposium on Sustainability and Historic Preservation in 2005, one of the earliest conferences on this emerging topic.
Leading the National Dialogue on Preservation and Sustainability
Through her lectures, presentations, and writing she has educated and expanded awareness about the integration of preservation and cultural principles into sustainable design.   Barbara led the national dialogue on preservation and sustainability through her blogs, beyond green building and True Green on the National Trust's websites, which were among the most widely read and quoted blogs on the Trust's popular websites. She continues that dialogue today on her own blog, True Green Cities, and UBM's Future Cities She has organized many conferences, symposia and panels for the AIA, Greenbuild, APT, Cascadia and the National Trust as well as a variety of statewide preservation conferences. She has been in demand as a speaker on sustainable preservation and LEED topics, and the connection between modern heritage and authenticity, speaking at venues that include the AIA Convention, Greenbuild, National Building Museum, the Chicago Architecture Foundation, DesignDC, Historic Green, Gulf Coast Green and the NCSHPO Annual Conference.
Training the Next Generations
Since 2012, Barbara has held faculty appointments at the University at Buffalo, School of Architecture & Planning and State University of New York, FIT, Sustainable Interior Environments graduate program.  Barbara teaches preservation courses at Buffalo and served as a curriculum consultant, developing a plan for a phased historic preservation graduate program. She is one of the founding professors of the Master in Arts sustainability program at FIT and in 2014 was appointed full-time Assistant Professor and Acting Chair of the program.   She divides her time between New York City and Buffalo.
Resume, and Curriculum Vitae.