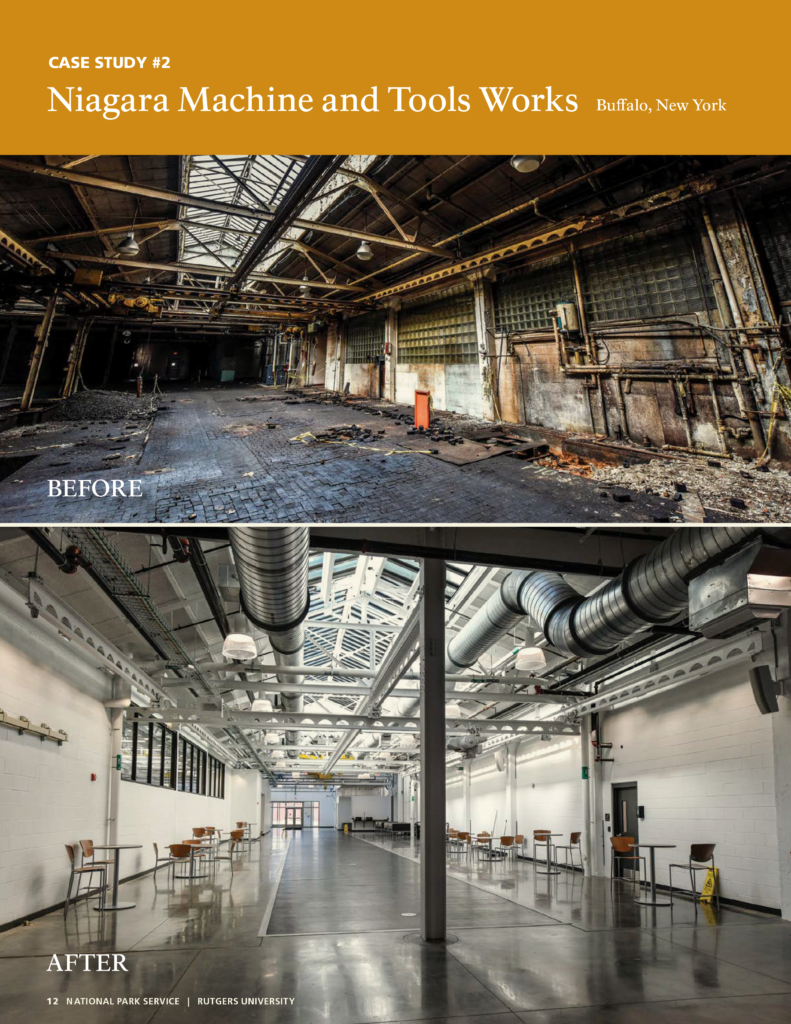 Celebrating Ten+ Years!  It's been eleven years since I launched Barbara A. Campagna/Architecture + Planning, PLLC and while many things have changed, my goal to work on "greening what's already here" continues to be met, often in places I never expected. 
Celebrating an Important Neighborhood-Changing Project
Great projects are sometimes honored for years. And we are finding that our transformation of the Niagara Machine & Tool Works Factory on the East Side of Buffalo is one of those projects. It is perhaps one of the projects that I am most proud of in my career because it not only revived a long vacant historic factory, it reactivated an entire community with its new uses of a workforce training center/community college and light manufacturing.
Each year the National Park Service evaluates the impact of the historic preservation tax credits on the American Economy: Only three case studies from around the country are included in the 2020 report which was published in 2021 and the Northland project was one of them! Annual Report on the Economic Impact of the Federal Historic Tax Credits for Fiscal Year 2020 prepared by the National Park Service. As per the report: Its reuse as an energy and manufacturing educational center maintains the industrial significance and aesthetics of the complex. The rehabilitation was the first step in the revitalization and reuse of one of Buffalo's great historic factory districts, and it served as a catalyst for the rehabilitation of two other factory buildings and planning for infill housing in the area.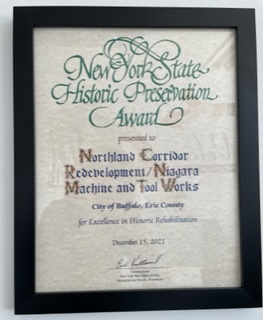 The project also won the significant New York State Historic Preservation Award for Excellence in Historic Rehabilitation for the Northland Corridor Redevelopment/Niagara Machine and Tool Works.  It's the highest preservation award given out each year in New York State.  I have been fortunate to win this award for two other projects in my career and each one has made a big difference in preservation in New York State. 
This project had a stellar team, led by the Buffalo Urban Development Corporation and prime A/E Watts Architecture & Engineering. I continue to be honored and grateful that I was invited to be the preservation architect on this project.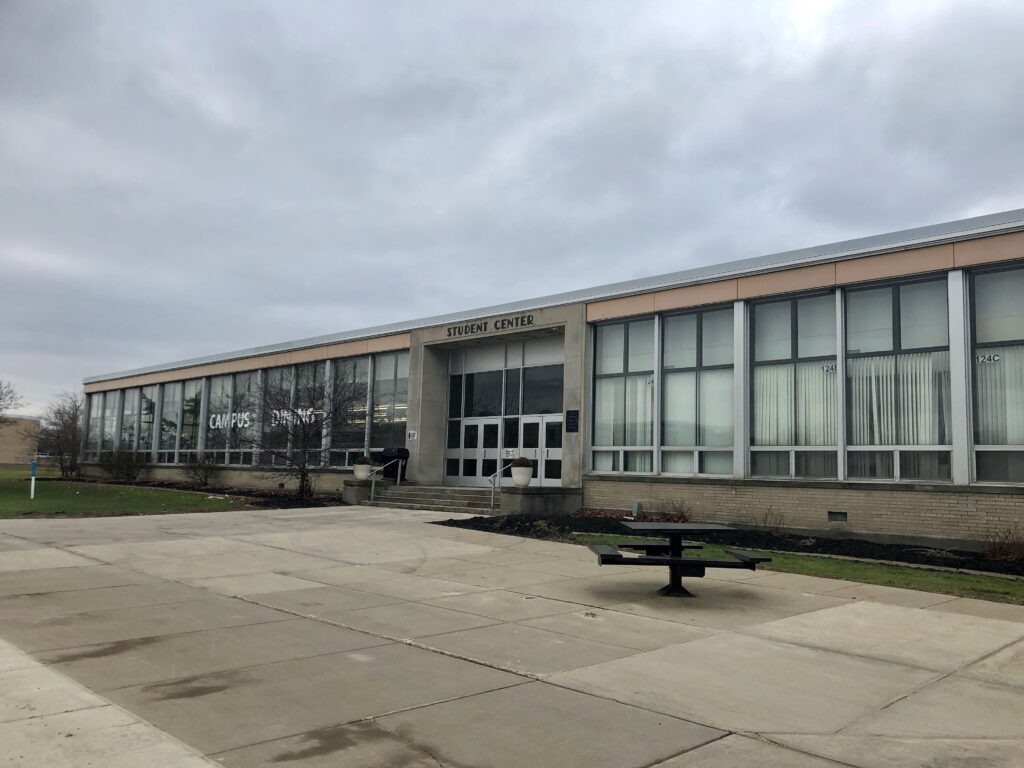 Celebrating Ten+ Years! It's been eleven years since I launched Barbara A. Campagna/Architecture + Planning, PLLC and while many things have changed, my goal to work on "greening what's already here" continues to be met, often in places I never expected.
Why Is A State Board of Regents' Post-War Community College Important?
We worked with Erie County Department of Public Works and Watts Architecture & Engineering to design the rehabilitation of the exterior of the Spring Student Center at SUNY Erie (Erie Community College North) in Williamsville, NY.  The campus, including the Spring Student Center, has been determined eligible for listing in the State and National Register of Historic Places. This project is using New York State funding and is therefore being evaluated under NYS Section 14.09. BAC's primary role was conducting the Section 14.09 review (NY State's version of Section 106) and providing preservation design recommendations.
The new Erie County Technical Institute buildings were designed by the noted Buffalo architecture firm Duane Lyman Associates and erected between 1958 and 1960 under the direction of the general contracting firmSiegfried Construction Company of Buffalo. Designed and sited to make travel between buildings as short as possible, the suburban campus encompassed five buildings including the Spring Student Center which was designed as the campus book store and coffee shop.  It was named after Laurence E. Spring, second president of Erie County Technical Institute.
Three years later, campus enrollment had already reached the maximum number of students that could be accommodated and pressure was building for new campuses in the City of Buffalo and southern Erie County. The Buffalo architecture firm of Kideney, Smith & Fitzgerald, specialists in educational and other public facilities, was hired in 1965-66 to develop plans to double the campus's size and enable ECTI to accommodate new liberal arts programs. Constructed 1967-69, the campus expansion resulted in the following changes to Spring Student Center – A large new entrance was constructed to better accommodate students, the bookstore was enlarged, expanding into the former coffee shop space, and an addition was constructed at the eastern end to accommodate a new coffee shop.
(The following 2 paragraphs are Extracted from the Determination of Eligibility prepared by Daniel McEneny, NYSOPR&HP.)
The buildings of the Erie Community College North Campus appear to be eligible for listing in the State and National Registers of Historic Places as relatively intact original manifestations of the early development and expansion of the community college and state university system in New York State. 
The Erie Community College North Campus meets Criterion A in Education for the important role it played in the education of World War II veterans. As one of the first five community colleges in New York State, it was also part of statewide efforts to adapt and expand the state educational system to meet the immediate and rapidly changing demands of a widening pool of students as well as increasing business needs for employees skilled in new and emerging fields and technologies. The North Campus buildings also meet Criterion C in Architecture in whole and in part as a prototypical suburban community college campus in New York State as well as its place in the development, suburbanization, and expansion of the community college system in New York State. It is also important to note that the campus was also one of the last architectural commissions of the noted Buffalo architect Duane S. Lyman and Duane Lyman Associates (1958-60) as well as the work of the Buffalo architecture firm Kideney, Smith & Fitzgerald (1967-1969 expansions, alterations and new building). Both firms specialized in the construction of educational and public institutions and have many commissions and National Register listings in the Buffalo vicinity.
Character Defining Features
As a conservative International Style one and two-story building representing new formalism of the 1950s/1960s, the following architectural features are considered character-defining. Both construction periods reflect a fairly conservative modern style, blending the International Style that was prevalent during the 1950s for commercial and institutional buildings with the new formalism emerging during the 1960s. The additions and new construction dating to the 1960s are architecturally distinct and do not generally obscure or destroy the significant, character defining architectural features dating to the original construction period. The 1950s building's character defining features include:
Largely single-story buildings;
Large, formal central entrances;
Raised, patterned brick detailing in buff-colored brick;
Flared, canted aluminum door frames with rolled profile moldings;
Ribbons of paired aluminum windows set into single story facades.
Rehabilitation Approach
The exterior rehabilitation of the Spring Center includes the replacement of HCM-containing (hazardous containing materials) aluminum windows, curtain wall and doors to match the original as closely as possible; repair of exterior masonry and the alteration of the Dining Hall wall on the North Elevation facing the Quad to accommodate a new entrance to a new outdoor terrace.  Minor alterations are being proposed to the entrances on the South Elevation to better welcome students, faculty, staff and visitors who typically use these entrances from the parking lot adjacent to the building.  The State Historic Preservation Office approved the Section 14.09 submission and alterations in February.  Construction should begin in 2023.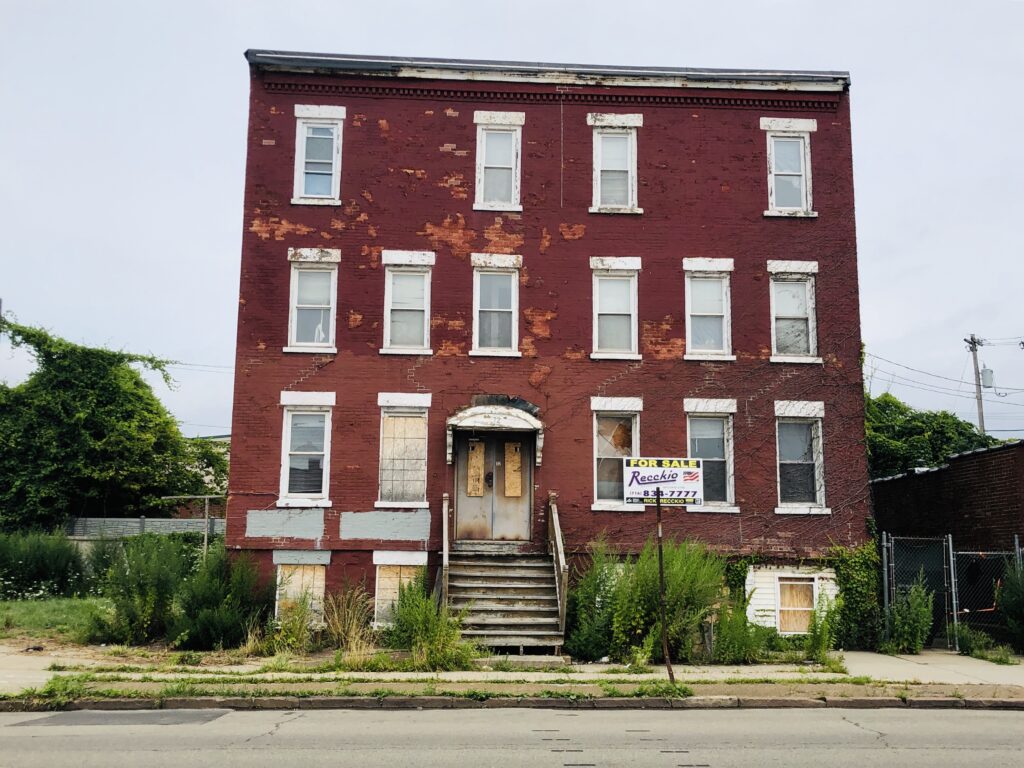 Celebrating Ten+ Years! It's been eleven years since I launched Barbara A. Campagna/Architecture + Planning, PLLC and while many things have changed, my goal to work on "greening what's already here" continues to be met, often in places I never expected.
Preserving a Boarding House with a Notorious Reputation
The Eliza Quirk Boarding House on Sycamore and Michigan on the edge of downtown Buffalo is one of those buildings that you just never quite notice. And yet this three story vernacular brick house may tell one of the most important stories in Buffalo's history. After several years of challenging work preparing the National Register nomination with the building's owner, Preservation Buffalo Niagara, the building was finally listed on the National Register on August 25, 2021. It is significant because it was owned and built by a woman; is a brick house that was built pre-Civil War; tells the story of the city's growth and is a rare example of a building built as a boarding house/brothel which continued throughout its history as a boarding house.
From the National Register of Historic Places Nomination (prepared by Barbara Campagna with Preservation Buffalo Niagara)
The Boarding House at 72-74 Sycamore Street is significant under criterion A in the area of social history as a rare surviving example of a building from Buffalo's canal era that provided housing for a long and varied series of boarders and transients from its construction in the mid-nineteenth century through the mid-twentieth century. Built as rowhouses, two identical attached dwellings in 1848, the original buildings were typical in form, materials, style, and plan to the majority of modest domestic buildings constructed in the mid-nineteenth century Buffalo; however census records confirm that both sides of the building were occupied continuously by multiple unrelated tenants from their construction period until c.1900-1905, when they were altered to function as one building with a plan more typical of boarding houses of the early twentieth century. The newly combined building continued to serve as a boarding house until 1971. Throughout the building's long history, its tenants included a wide variety of working-class people, such as carpenters, masons, cooks, and actors, as well as European-American immigrants and African Americans.
The two buildings were commissioned by Eliza Quirk, a well-known local courtesan. While 72 Sycamore Street (originally known as 50 Sycamore Street) served as her residence, the other side was built as a rental property. Because of Quirk's repeated documented brushes with local authorities and the number of unrelated women who boarded at the properties, it is believed that, especially her own residence, functioned as a brothel.; however, this has yet to be conclusively documented. Nevertheless, a number of references to both addresses that described it as a "bawdy house" and "ranch" (terms for brothels), mentioned foreclosures, noted the arrests of sex workers, and described it as "formerly run by the 'notorious HattiLynn,'" and other indications that the building was originally used for and in part over time continued to be used in the sex trade industry.
Architecturally, the building reflects both its early canal era origins and its use as a boarding house. As built in 1848, the identical brick buildings were two (later two and one-half) stories tall, three-bays wide, with side-hall, two-room-deep plans. At some point in its history, likely between 1900 and 1905, the buildings were altered, interconnected on the interior with a single opening providing access between the two buildings and to the upper floors, with a basement level commercial space added below. One of the exterior entrances was reconfigured as a window, while retaining its large lintel. The later plan provides direct evidence of its function, as it was similar to that of other boarding houses constructed or altered in the early twentieth century. Between 1902 and 1967, every description noted that the combined building was either a hotel, a boarding house, flats, or non-boarding rooms with a saloon. There was at least one citation in the 1920s for running a "disorderly house" and additional physical updates for boarding house use in 1948 and 1967.
Today, the building retains its rectangular form, exterior materials and most of its doors and window openings form the original period. Other openings, such as the entrance to the second building and the third-floor windows, are clearly visible and interpretable. Four original chimneys and the demising wall in the basement document the original plan. The building was raised from two and one-half stories to three in the late nineteenth century, creating additional space for boarders. The interior represents the second period, when it was redefined as one building. Features that represent this period include the unified plan, central stair, central kitchen on the first floor, one bathroom on each floor, a laundry room in the basement and multiple bedrooms (as many as 20 noted in later building permits).
The nominated property is an extremely rare surviving example of a building from this early date in Buffalo, as well as a nearly singular example of an early boarding house representing the canal era, one of Buffalo's most important development periods. Of more than forty buildings noted as boarding houses in the mid-nineteenth century Buffalo city directory, the nominated building is the only one to survive. More than a century of documented use of this building by some of the poorer, immigrant, and perhaps less respected citizens of Buffalo provides rare and important information about settlement patterns, living conditions, and Buffalo's rapid and changing growth.
© Copyright Barbara Campagna – True Green Cities - 2011-2013