True Green Cities/Celebrating Nine Years: Transforming a Historic Psychiatric Center Ward Building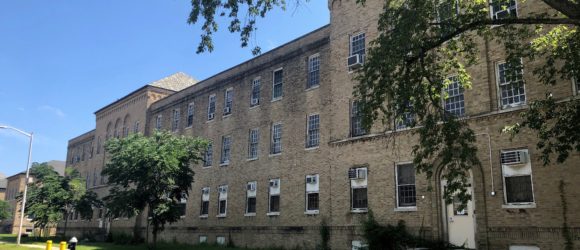 Happy 50th Earth Day!! It's been nine years since I launched Barbara A. Campagna/Architecture + Planning, PLLC and while many things have changed, my goal to work on "greening what's already here" continues to be met, often in places I never expected. Given I never expected to be celebrating nine years on lockdown (week 6) due to the novel corona virus global health crisis. But I still plan to present 5 positive stories from the past year this week to celebrate nine years in business.
Transforming a Historic Psychiatric Center Ward Building
Creedmoor Psychiatric Center was constructed on 314 acres of land in the Borough of Queens. Today, the land surrounding the center is a densely developed residential neighborhood composed almost entirely of single-family detached houses. The center contains 54 buildings constructed before 1945, all of which range from one to four stories in height. An ample amount of open land surrounds each structure, conveying an impression that the center is located in a sparsely developed rural area instead of its densely populated urban environment. The buildings constructed prior to 1945 were designed in two architectural styles. The predominant style used at Creedmoor employed neo-Romanesque motifs executed in buff brick and terra cotta, while the secondary style is Colonial Revival executed in red brick. The roofing material for the buildings of both styles is blue-gray slate. Many of the center's structures were designed and constructed in small complexes of two to four buildings so that they relate to each other in terms of materials, scale, massing and landscaping.
BAC/A+P is the preservation architect and consultant for the project, which involves evaluating two vacant historic buildings for reuse as transitional living programs. Both Building 70 and 21 have been evaluated by the project architect, Cannon Design. BAC has prepared a Phase One Historic Preservation Review Report for both buildings identifying the historic nature of the buildings, describing the Methodology conducted to evaluate the site and project, indicating the process for review with SHPO and suggesting a schedule.
Building 21, a former hospital ward building built in 1931, was approved for the State to be adapted for transitional housing. BAC/A+P conducted an exterior survey of the brick and cast stone and developed the restoration and repair specifications. Design Development for its restoration and a rear addition for community spaces have been approved by the New York State Historic Preservation Office.
Many people are finding new ways to integrate historic preservation and green building practices, which makes my nine-year old venture a delightful and intellectually inspiring one. Greening an existing, vacant building is one of the greenest actions we can take. We look forward to completing the rehabilitation once the pandemic settles us into a new normal.
(I apologize for the wonky formatting; the website is under renovation and its updates are on hold during this global health crisis.)
© Copyright Barbara Campagna – True Green Cities - 2011-2013