True Green Cities/Celebrating Nine Years: Keeping Busy in the Time of Corona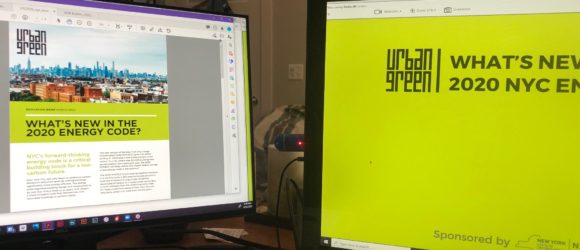 It's been nine years since I launched Barbara A. Campagna/Architecture + Planning, PLLC and while many things have changed, my goal to work on "greening what's already here" continues to be met, often in places I never expected. Given I never expected to be celebrating nine years on lockdown (week 6) due to the novel corona virus global health crisis. But I still plan to present 5 positive stories from the past year this week to celebrate nine years in business.
Keeping Busy in the Time of Corona
Wondering what to do with your time, how to interact with others and how to keep yourself intellectually stimulated during COVID-19? I have been making use of my various memberships and signing up for webinars – and some even give you continuing education credits. Last week I participated in a NYS Empire State Development webinar on "Getting Savvy with Social Media" and a webinar from the Urban Green Council "What's New in the 2020 NYC Energy Code?"
In "Getting Savvy with Social Media" we discussed when to use Twitter vs. Facebook vs. LinkedIn vs Instagram. Should you just use business pages or also use your personal pages to post business updates? (Yes, use both!) How often should you post? (At least three times a week.) Be honest about how COVID-19 is affecting your business and you. We're all in this together!
"What's New in the 2020 NYC Energy Code?" has been offered several times to inform green building practitioners on the new 2020 New York City Energy Conservation Code which goes into effect on May 12th and is related to Local Law 97. If you work at all in sustainability, NYC or would like to be up to date with the best in energy codes, this webinar, with 1.5 AIA and GBCI credits, is important to take. I learned so much. They provide you with a lot of support materials as well. This was my first webinar with Urban Green and I was incredibly impressed. It was very well organized and the speakers were first-rate. I signed up for a webinar on multi-family housing in May and their online virtual conference in June: Unlocking The Grid: Getting Renawables to NYC.
In addition to educational webinars, I have also been participating in updates from organizations I work with such as the National Park Service, NY Landmarks Conservancy and ULI. It's a way to stay connected and up-to-date with your clients and memberships.
So don't delete those event emails you get from your organizations!!  I have also signed up for the Vernacular Architecture Forum (VAF) virtual conference which is replacing their actual conference in San Antonio on May 9th – only $20 for the whole day, whether you're a member or not. 
I found an AIA Baltimore webinar on Resilience in May, and AIA National sent an email out last week saying that since they had to cancel their conference in Los Angeles they will be offering more online events and webinars.  Many people are finding new ways to integrate historic preservation and green building practices, which makes my nine-year old venture a delightful and intellectually inspiring one. We may not be able to see our colleagues and friends in person right now, but these online webinars and workshops are definitely very helpful.  Stay strong, safe and healthy!!
(I apologize for the wonky formatting; the website is under renovation and its updates are on hold during this global health crisis.)
© Copyright Barbara Campagna – True Green Cities - 2011-2013