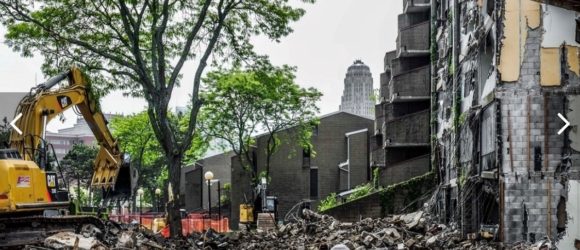 Celebrating Ten Years!  It's been ten years since I launched Barbara A. Campagna/Architecture + Planning, PLLC and while many things have changed, my goal to work on "greening what's already here" continues to be met, often in places I never expected. Two items on my bucket list – chairing an Association for Preservation Technology International (APT) Conference (I was the Chair of the 50th Anniversary APT 2018 Buffalo Niagara Conference) and editing an APT Bulletin were both achieved in the past ten years.  The APT Bulletin – Special Issue: The Next Fifty Symposium, Vol. 51, Number 1 (2020) was co-edited by myself and Jill Gotthelf, the Co-Chairs of The Next Fifty Symposium.  My specific article: "Redefining Brutalism," discussed new ways to think about saving Brutalist heritage.
The Next Fifty – The APT Bulletin Based on the APT 2018 Conference Themes
Can we change the negative narrative surrounding brutalism and urban renewal through an activist approach to architecture and historic preservation?  As the 2018 APT conference program was being developed, many brutalist era buildings throughout the country were either facing imminent demolition or being appreciated in new ways. The conference committee wanted to explore why some buildings were in danger, while others were being remade and even applauded. Did their location matter? Did the local architects who admired the buildings have the ability to change the narrative?  A special plenary on Brutalism was one of three themed panels that kicked off the conference.
Redefining Brutalism
Why is the preservation of postwar architecture that falls under the brutalist lexicon so challenging? I asked this question and discussed its impacts on the preservation of brutalist buildings at a NationalCenter for Preservation Technology and Training (NCPTT) symposium in St. Louis, Missouri, in 2015:
"Questions of authenticity, the use of materials such as concrete panels and concrete block, the construction of new building types like public housing, the often-misunderstood social policies of urban renewal, and maintaining some of the most energy inefficient buildings ever built are some of the issues that impact its preservation." This paper looks at brutalist buildings and their preservation in Buffalo, Toronto, and Boston, which together amply demonstrate the complexity of saving and reusing these buildings in meaningful ways. This paper is based on the theme plenary entitled "Can We Redefine Brutalism, Post-War Architecture & Urban Renewal?" that was one of the three opening sessions at the APT Buffalo-Niagara 2018 Conference.
This article detailed case studies on Shoreline by Paul Rudolph in Buffalo, a new "heroic" approach to concrete Brutalism in Boston and rethinking concrete and postwar towers in Toronto. Please read the article (available through JSTOR).
© Copyright Barbara Campagna – True Green Cities - 2011-2013