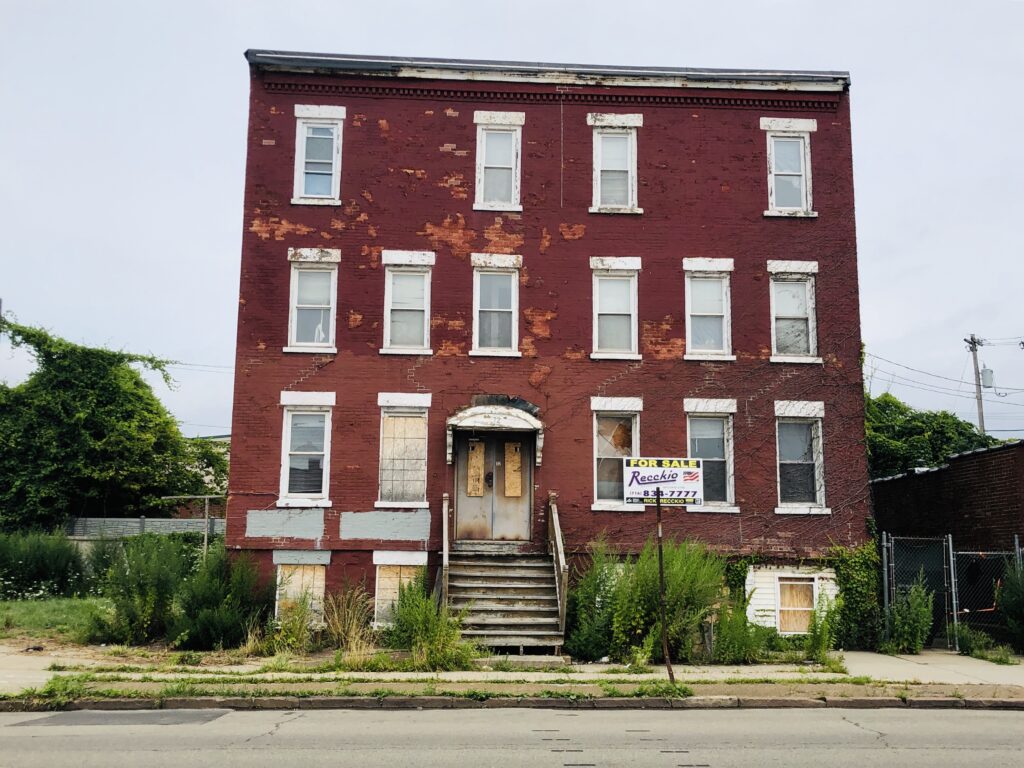 Celebrating Ten+ Years! It's been eleven years since I launched Barbara A. Campagna/Architecture + Planning, PLLC and while many things have changed, my goal to work on "greening what's already here" continues to be met, often in places I never expected.
Preserving a Boarding House with a Notorious Reputation
The Eliza Quirk Boarding House on Sycamore and Michigan on the edge of downtown Buffalo is one of those buildings that you just never quite notice. And yet this three story vernacular brick house may tell one of the most important stories in Buffalo's history. After several years of challenging work preparing the National Register nomination with the building's owner, Preservation Buffalo Niagara, the building was finally listed on the National Register on August 25, 2021. It is significant because it was owned and built by a woman; is a brick house that was built pre-Civil War; tells the story of the city's growth and is a rare example of a building built as a boarding house/brothel which continued throughout its history as a boarding house.
From the National Register of Historic Places Nomination (prepared by Barbara Campagna with Preservation Buffalo Niagara)
The Boarding House at 72-74 Sycamore Street is significant under criterion A in the area of social history as a rare surviving example of a building from Buffalo's canal era that provided housing for a long and varied series of boarders and transients from its construction in the mid-nineteenth century through the mid-twentieth century. Built as rowhouses, two identical attached dwellings in 1848, the original buildings were typical in form, materials, style, and plan to the majority of modest domestic buildings constructed in the mid-nineteenth century Buffalo; however census records confirm that both sides of the building were occupied continuously by multiple unrelated tenants from their construction period until c.1900-1905, when they were altered to function as one building with a plan more typical of boarding houses of the early twentieth century. The newly combined building continued to serve as a boarding house until 1971. Throughout the building's long history, its tenants included a wide variety of working-class people, such as carpenters, masons, cooks, and actors, as well as European-American immigrants and African Americans.
The two buildings were commissioned by Eliza Quirk, a well-known local courtesan. While 72 Sycamore Street (originally known as 50 Sycamore Street) served as her residence, the other side was built as a rental property. Because of Quirk's repeated documented brushes with local authorities and the number of unrelated women who boarded at the properties, it is believed that, especially her own residence, functioned as a brothel.; however, this has yet to be conclusively documented. Nevertheless, a number of references to both addresses that described it as a "bawdy house" and "ranch" (terms for brothels), mentioned foreclosures, noted the arrests of sex workers, and described it as "formerly run by the 'notorious HattiLynn,'" and other indications that the building was originally used for and in part over time continued to be used in the sex trade industry.
Architecturally, the building reflects both its early canal era origins and its use as a boarding house. As built in 1848, the identical brick buildings were two (later two and one-half) stories tall, three-bays wide, with side-hall, two-room-deep plans. At some point in its history, likely between 1900 and 1905, the buildings were altered, interconnected on the interior with a single opening providing access between the two buildings and to the upper floors, with a basement level commercial space added below. One of the exterior entrances was reconfigured as a window, while retaining its large lintel. The later plan provides direct evidence of its function, as it was similar to that of other boarding houses constructed or altered in the early twentieth century. Between 1902 and 1967, every description noted that the combined building was either a hotel, a boarding house, flats, or non-boarding rooms with a saloon. There was at least one citation in the 1920s for running a "disorderly house" and additional physical updates for boarding house use in 1948 and 1967.
Today, the building retains its rectangular form, exterior materials and most of its doors and window openings form the original period. Other openings, such as the entrance to the second building and the third-floor windows, are clearly visible and interpretable. Four original chimneys and the demising wall in the basement document the original plan. The building was raised from two and one-half stories to three in the late nineteenth century, creating additional space for boarders. The interior represents the second period, when it was redefined as one building. Features that represent this period include the unified plan, central stair, central kitchen on the first floor, one bathroom on each floor, a laundry room in the basement and multiple bedrooms (as many as 20 noted in later building permits).
The nominated property is an extremely rare surviving example of a building from this early date in Buffalo, as well as a nearly singular example of an early boarding house representing the canal era, one of Buffalo's most important development periods. Of more than forty buildings noted as boarding houses in the mid-nineteenth century Buffalo city directory, the nominated building is the only one to survive. More than a century of documented use of this building by some of the poorer, immigrant, and perhaps less respected citizens of Buffalo provides rare and important information about settlement patterns, living conditions, and Buffalo's rapid and changing growth.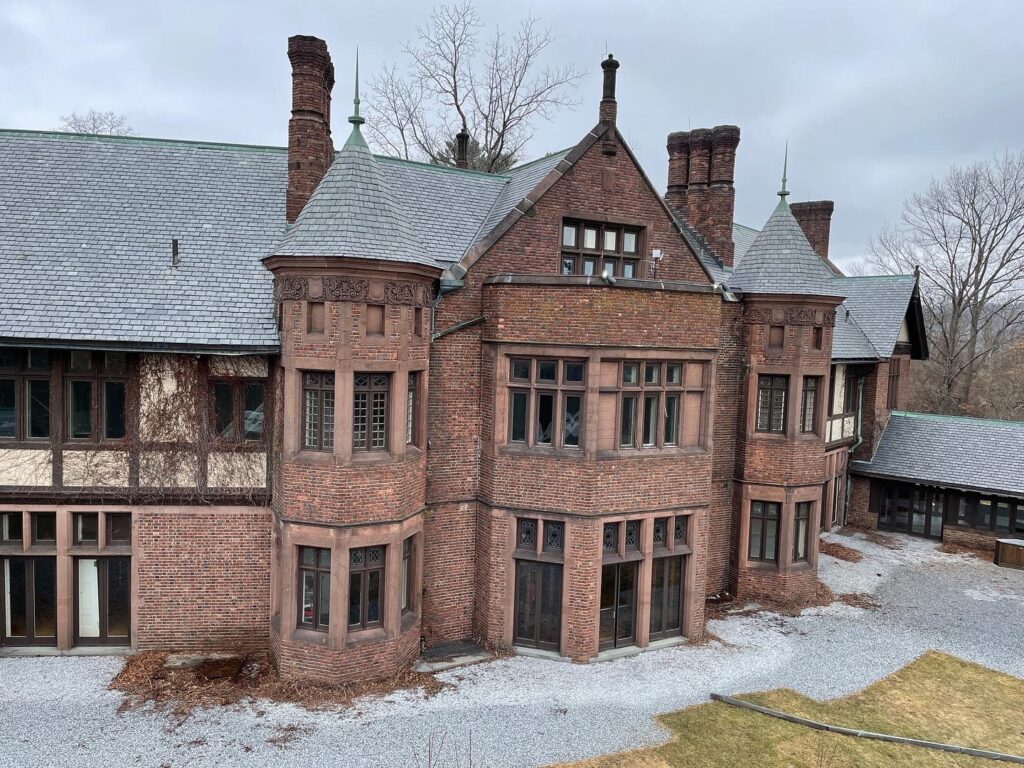 Celebrating Ten+ Years
Celebrating Ten+ Years!  It's been eleven years since I launched Barbara A. Campagna/Architecture + Planning, PLLC and while many things have changed, my goal to work on "greening what's already here" continues to be met, often in places I never expected. 
Greening A Gilded Age Manor House
BAC/Architecture + Planning, PLLC was hired to provide a limited scope of services to evaluate the
existing conditions of the exterior building fabric of the historic mansion at Blantyre in Lenox, MA and provide recommendations with a work plan. I conducted a three-day site visit at Blantyre February 21-23, 2022. The site visit consisted of walk-throughs of the entire exterior and interior of the building, two days of exterior examination of the building from a 125' reticulating boom lift and site meetings with key members of the design and construction team, detailed observations of the exterior of the building and review of readily accessible documents.
The estate is located within the Estate Preservation Area within the Lenox Zoning Bylaw.The Blantyre Main Building is specifically identified in the bylaw: "Preservation and rehabilitation of the original exterior features, character and structural integrity of Category #1 buildings inherited from the estate system of the turn of the century.  The Board of Appeals shall refer to the Secretary of the Interior's Standards for Rehabilitation."
Preservation Through Sound Restoration and Maintenance
One of the things I like most about being a preservation architect is that there are distinct preservation processes and policies to base our work on. Looking at this building, in such a quick site visit, was no different and the evaluation was supported by following sound preservation methodologies. Through detailed site evaluation and meetings with the design and construction team, the following list of observations was prepared. The building envelope is in fair to poor condition. All damage identified is due to four main causes:
1. Lack of regular cyclical maintenance particularly at drains and gutters leading to water damage around and below these areas (intersecting roof valleys and the flat roofs); 2. Inappropriate repointing with mortars that are likely too hard causing damage and cracking to the adjacent brick or sandstone; 3. Open mortar joints which cause continual water infiltration; and 4) Years of ivy growth on the exterior walls.
The roofs include hip slate roofs, slate turrets, brick parapets with flat built-up roofing and sandstone capstones, and mostly copper flashing throughout. The drainage system includes copper gutters and leaders.
Blantyre's exterior walls are clad with brick in a Flemish bond and trimmed with sandstone. The original mortar which can be seen throughout the building is a very hard, likely Portland cement based mortar. The Tudor Revival building also has half-timbering with wood and stucco on the second floor and the third floor dormers.  There are six elaborate existing brick chimneys.  Half-timbering with the stucco walls on the 2nd floor; exterior porch and conservatory; corbels and brackets at 3rd floor dormer window frames on North Elevation.
The mansion is being restored through the rest of the year to reopen as a refreshed boutique hotel. We hope to show the newly opened hotel next year!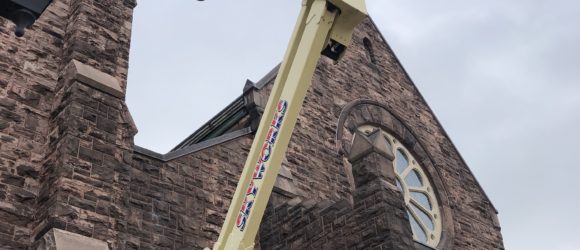 Happy Earth Day!! Celebrating Ten Years! It's been ten years since I launched Barbara A. Campagna/Architecture + Planning, PLLC and while many things have changed, my goal to work on "greening what's already here" continues to be met, often in places I never expected. I've been working on a historic church in Jamestown, NY since 2017 and this year we ramped up the exterior restoration.
What Makes St Luke's a Landmark
St. Luke's Episcopal Church, built in 1894, is a substantial structure of rock-faced Medina sandstone that blends Late Gothic Revival and Romanesque Revival elements. Designed by Boston architect, W.P. Wentworth, it has a traditional cruciform plan with a square bell tower attached to the northeast comer of the church. The tower features a clock on each face side and rounded comers topped with conical pinnacles. St. Luke's is enhanced by an intact interior, stained glass windows, an arcaded facade (with a front porch or narthex) and stone tracery in the west facing Rose Window. Both the tower and the church have engaged corner buttresses and Gothic arches at the first and second floor levels. The belfry has a pointed arch opening on each elevation with louvers and stone tracery. A shed-roof porch (also called Narthex) projects from the front elevation (west) on North Main Street and has an arcade of half columns that support pointed arches. Above the porch is a large Rose Window with tracery. A front gabled vestry wing is located north of the church, housing a small chapel on the first floor.
St. Luke's Episcopal Church is a contributing component of the Jamestown Downtown Historic District, which is listed on the National Register of Historic Places. The Historic District was listed on the National Register in 2014.
Preservation Program
St. Luke's Episcopal Church is embarking on a multi-phased exterior restoration to address critical structural and life safety repairs to its iconic masonry architectural features. This project includes the targeted exterior masonry restoration of the Medina Sandstone building and the structural stabilization of potential life safety hazards from the Bell Tower, the Front Porch/Narthex, and the Front Stair. An initial existing conditions study in 2018 determined that further testing and probes should be conducted to confirm the causes of the structural deficiencies observed. St. Luke's received a New York State Environmental Protection Fund grant in 2019 which allowed the Church to hire a professional team in 2020 to 1) develop a probes and subsurface investigation package and 2) the restoration design work. A team led by Barbara A. Campagna/Architecture + Planning, PLLC, Watts A+E (Buffalo), Barron & Associates Geotechnical Engineers and Trophy Point Cost Estimators all from Buffalo with Silman Structural Engineers (NYC and Detroit) and Jablonski Building Conservation (NYC) was hired.
Evaluation by the architects, conservator, structural engineer and geotechnical engineer through hands-on observations, probes and borescope review of masonry/brick exterior wall conditions identified that the brick back-up wall of the Bell Tower is separating from the Medina sandstone facing – anywhere from 1'' to 4" on the top two floors of the Tower, presenting an immediate life safety hazard. The Front Porch/Narthex, and the Front Stair are structurally separating from the main body of the building and settling in towards the body of the Church. Subsurface investigation determined that settling of the building components probably occurred within the first twenty years of its construction and is no longer settling at the foundation. However, water infiltration throughout the building's roofs and walls is causing the continuous damage and further targeted settlement and cracking throughout the complex.
The Bell Tower will require structural reattachment of the sandstone facing to the brick back-up walls and the Front Porch/Narthex with the Front Stairs will require complete reconstruction to rebuild the ineffective parapets and flashing, the settled Porch and Front Stairs (which are no longer open to the public). This spring more non-destructive evaluation will be conducted to identify and map the voids in the walls of the Bell Tower. A construction project will begin in the fall.
© Copyright Barbara Campagna – True Green Cities - 2011-2013