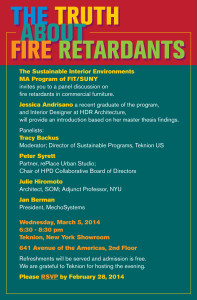 Most of my thinking, writing and working involves the bigger picture of our places – buildings, landscapes, communities.  But what probably impacts us more every day are our interior spaces – the furniture, fabrics, finishes and things with which we surround ourselves. And I don't know about you, but I rarely consider how safe I am in my house or my office.  Until, that is, I heard the evaluation on fire retardants that one of my students in FIT's graduate program of Sustainable Interior Environments presented as her thesis.  Jessica Andrisano's findings and questions will form the core of a panel on Fire Retardants being presented in New York city on Wednesday, March 5th at Teknion's showroom on Avenue of the Americas.
The Truth About Fire Retardants
Jessica is a practicing interior designer who works for HDR Architecture who found herself specifying furniture when she had no idea how safe it was. Since she was studying for her Master's full-time while still working full-time, she realized she could conduct a thesis study that made a true impact on her business.  A summary from Jessica is below:
"My thesis evolved from a multitude of questions I had about the use of fire retardants in commercial furniture…What exactly are the codes and how are chairs constructed to meet the code?  If flame retardants are used in all commercial furnishings, which ones?
How do manufacturers ensure that a chair complies with fire standards?
As a part of my thesis, I conducted a survey with furniture manufacturers.  The conclusions to my primary research were:
Most commercial upholstered furniture is constructed in a similar manner, with a wood or steel frame, support webbing, foam padding, and fabric.
Manufacturers send products to third party laboratories for fire testing but the three manufacturers that responded to my survey only tested their furniture to the most stringent test, CAL 133 (a burn test).   They did not mention testing to TB 117 or TB 116 (fire behavior and compliance tests).
One of the manufacturers confirmed use of fire retardant materials in their foams but did not provide specific info about the chemicals used.  The polyurethane foam association, however, reported that typical US fire retardant additives for foam are mixtures of brominated flame retardants and phosphate esters such as Firemaster 550 and 600, or chlorinated phosphate esters such as TDCP (a highly toxic fire retardant linked to cancer).
From both this study and secondary research sources, it is perceived that furniture manufacturers are meeting the TB 133 standard by wrapping foam with a barrier material.  The EPA has reported that some barrier materials are natural fibers such as cotton with a chemical treatment, typically boric acid.  Another option is a blend of synthetic materials, such as Kevlar, Nomex, polybenzimidazole, VISIL, Basofil and natural fibers.  A third option is to utilize synthetics fibers with inherent flame resistance.  Fire-retardant films, such as Neoprene, are also being utilized.
Unfortunately, the conclusions from my research are limited because I only received three responses to my questionnaire.  It also seemed that with every response I received that I had another question.  For instance, it seems standard practice to wrap foams in-order to meet TB 133; however the study did not reveal which materials are being used to encase the foam.
It also seems manufacturers are only testing to meet TB 133 meaning they are not testing chair components for compliance with TB 117.   What I have gathered is that they are simply procuring foam and fabrics that meet 117 requirements.
One of the respondents said…"We purchase from a large distributor with little to no control over the ingredients included in the process.  They provide to a massive industrial base, we are small buyer within their portfolio.  Therefore, we do not know the specific FR but they are likely to be halogenated (Br or Cl). "
Because of the complicated supply chains involved in manufacturing, future research may be more viable if conducted first with raw material and/or component suppliers.  After months of research with such a complex topic it seemed most pertinent for my thesis to provide a general overview of the current state of affairs with regards to fire retardants; compiling my secondary and primary research.  I am very happy to report that it seems that some of my research may be null due to the changing regulations."
Life Cycle Supply Chains
Understanding life cycle supply chains, throughout everything we have on the planet, is one of the most challenging aspects of our new green world.  No matter how hard we all try, we often seem to be in the same boat as the respondent above who said he has no way of understanding what ingredients they are actually purchasing from their distributor.  Let's hope that Jessica's optimism about new regulations starts to permeate more and more of the architectural and interior design supply chain. Brava to Jessica for taking on such a timely and important topic!
If you're in NYC on Wednesday March 5th and this topic intrigues you, please join our FIT and green building colleagues for "The Truth About Fire Retardants," at 6:30PM at the Teknion Showroom on 641 Avenue of the Americas.  It's free and Teknion will provide refreshments.  Sustainability experts and leading practitioners in the field will join Jessica on a panel.
And if you'd like to "subscribe" or follow my blog, True Green Cities, please sign up through the "Subscribe" button at the bottom left of this page. You'll receive a daily recap when new blogs are posted. Or Sign up for the Feed.
Using both historic preservation and green building practices, our cities and neighborhoods are becoming more walkable, "sit-able" (to quote my friend Chuck Wolfe) and vital.  We see cities rethinking their codes and zoning to promote smarter growth, open space preservation and diverse walkable neighborhoods.  We see small cities and urban cores encouraging revitalization projects which focus on rehabilitating "upper floors" of their historic 19th century downtown commercial buildings.  And everyone wants to be as green as possible.
I am organizing a two day conference in Corning, New York in May which digs into all of these topics.  AIA Southern New York, the Preservation League of New York State, Market Street Restoration and Corning's Gaffer District invite  you to the Market Street Restoration project, Corning's "main street."  In celebration of Market Street Restoration's 40th anniversary, attend this two-day conference which features the one-day "Rethinking Downtowns Through a Green Lens" Symposium and the one-day "Making Upper Floors Work Again" Workshop.  Through a combination of keynotes, plenary sessions, and tours, nationally known speakers and local experts will discuss smart growth, downtown revitalization, form-based codes, LEED for Neighborhood Development and green new design and preservation projects.
The Finger Lakes in Spring
Explore the oldest revitalized "main street" in the country and earn up to 15 continuing education credits (AIA, GBCI and APA/AICP).  Enjoy the Finger Lakes in spring and participate in GlassFest  – a four-day celebration of glass and fire arts in America's crystal city.  Located in venues throughout a city known for its natural beauty and innovative technologies.
A Conference Full of Keynotes!!
Kaid Benfield, Special Counsel for Urban Solutions at the Natural Resources Defense Council, in Washington, DC will lead off the conference.  Kaid is an adjunct professor at the George Washington University School of Law;  co-founder, LEED for Neighborhood Development rating system; co-founder, Smart Growth America coalition; author of several books on smart growth and sprawl, and a regular contributor to the websites The Atlantic Cities, the Sustainable Cities Collective, and NRDC's Switchboard.  He was selected as one of the world's "top urban thinkers" on the city planning website Planetizen and one of "the most influential people in sustainable planning and development" by the Partnership for Sustainable Communities.  Kaid has just published People Habitat: 25 Ways to Think about Greener, Healthier Cities. 
People Habitat explores topics as diverse as "green" housing developments that are no such thing, the tricky matter of gentrifying inner cities, why people don't walk much anymore, and the relationship between cities and religion.  Written with intellect, insight, and from-the-heart candor, each real-world story in People Habitat will make you see our communities in a new light.
Note from Kaid about People Habitat:
Environmentalists used to think of cities as a source of environmental problems, but I see them as a source of environmental solutions, enabling living patterns that reduce pollution and consumption. At their best, they also support efficient commerce and nurture the human spirit. People Habitat is a collection of thoughts about how to maximize cities' endless potential to support greener, healthier living.
Norman Mintz of  Norman Mintz Design Associates in Brooklyn, NY opens the second day. Norman is one of the pioneers of the Main Street movement. He is an Industrial Designer and a Historic Preservationist who specializes in providing solutions on matters of Urban Design, Organization and Management while encouraging community participation in all aspects of the downtown revitalization process.
His professional career in downtown revitalization began with his direction of the nationally acclaimed Market Street Restoration Project in Corning, New York, where he initiated the role and became recognized as this country's first Main Street Manager – an essential position now incorporated by hundreds of revitalization programs around the nation. After two decades of providing consulting services and working with two large Business Improvement Districts in Manhattan (Bryant Park Corporation and the 34th Street Partnership), Mr. Mintz now serves as a Senior Associate for Project for Public Spaces (PPS). Based upon his extensive "hands on"  experience, he facilitates PPS ongoing workshops on Placemaking, emphasizing project implementation and Making It Happen.
Mr. Mintz is co-author of the book, Cities Back From The Edge: New Life For Downtown, published by John Wiley & Sons. The book chronicles stories from around the country and illustrates how dozens of commercial neighborhoods, Main Streets and big city business districts have revitalized their commercial centers using small scale innovative programs that encourage local businesses and overall community involvement. The book has received an overwhelmingly positive response and recognition as a "must read".
Every biography for each of our 14 speakers reads as impressive as Kaid's and Norman's and in fact each of them are typically keynotes at conferences themselves.  We offer you a conference full of keynotes!!  Please review the conference details.  You can experience all of this for under $200 in one the most glorious locations in America. Hope to see you  in May!   Please contact me if you questions or would like to reserve your spot.  aiasny.workshop@gmail.com
And if you'd like to "subscribe" or follow my blog, True Green Cities, please sign up through the "Subscribe" button at the bottom left of this page. You'll receive a daily recap when new blogs are posted. Or Sign up for the Feed.
Buffalo has some of the best and most groundbreaking architecture in America and indeed in the world.  As one of the few cities with masterpieces by Richardson, Sullivan, and Wright, it has long been a destination for students and lovers of architecture.  And in recent years, a renaissance of sorts is reviving its landmarks and reactivating the neighborhoods.  Grain elevators and daylight factories that influenced LeCorbusier, Erich Mendelsohn and Reyner Banham are finding new life while Richardson and Olmsted's long vacant Buffalo State Asylum for the Insane becomes a boutique hotel, conference center and architecture center.  Wright's Darwin D. Martin House has been restored and reconstructed and Sullivan's Guaranty building, often called the first real skyscraper, has been restored for a second time in 25 years.  Buildings by Richard Upjohn, Daniel Burnham, and the Saarinens fill in the landscape.  But what is less recognized is that Buffalo's architectural innovation continued through the modern era and these traditional icons can be found across the street from buildings by Yamasaki, Edward Durrell Stone, SOM, I. M. Pei and Paul Rudolph.  And like much of the rest of the country, Buffalo's preservationists are now finding themselves in the midst of battles to save its modern architecture.  For the rest of this article, see this month's Special Brief on Public Housing in the Docomomo_US Newsletter.  
And if you'd like to "subscribe" or follow my blog, True Green Cities, please sign up through the "Subscribe" button at the bottom left of this page. You'll receive a daily recap when new blogs are posted. Or Sign up for the Feed.
© Copyright Barbara Campagna – True Green Cities - 2011-2013