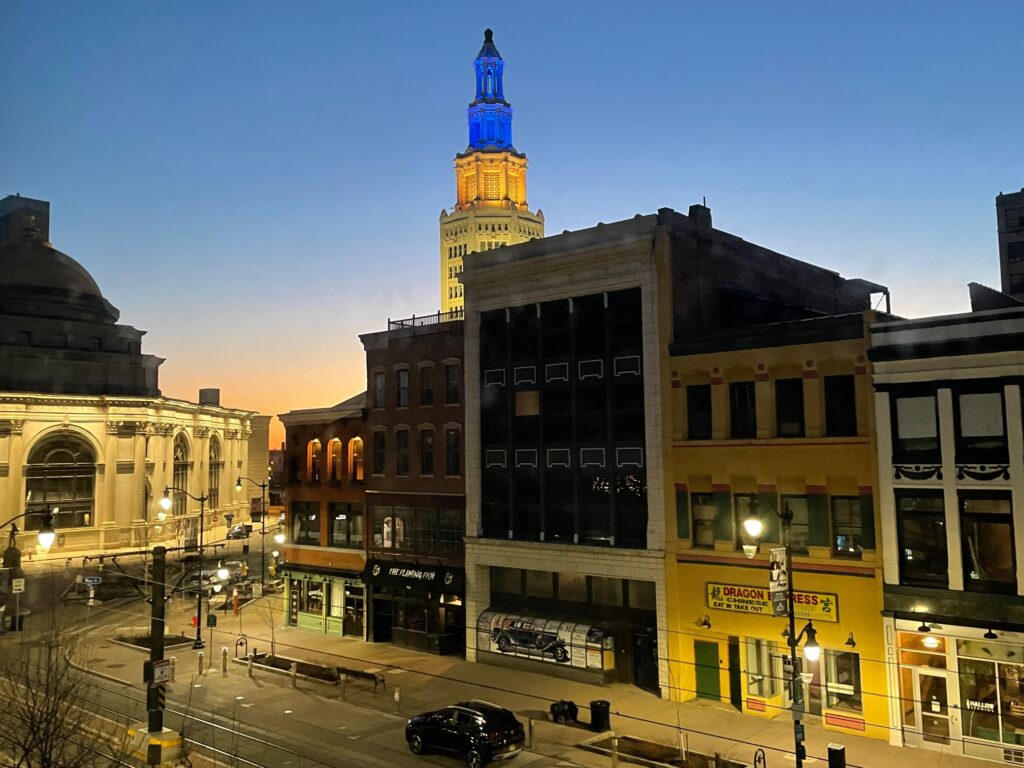 Ten+ Years!  It's been eleven years since I launched Barbara A. Campagna/Architecture + Planning, PLLC and while many things have changed, my goal to work on "greening what's already here" continues to be met, often in places I never expected. It's the 52nd Earth Day and as we emerge from our unexpected pandemic, let's appreciate the world around us and welcome ourselves back to our community.
Celebrating Earth Day After the Pandemic
The first Earth Day was in April 1970. Because there was no EPA, no Clean Air Act, no Clean Water Act. There were no legal or regulatory mechanisms to protect our environment. In spring 1970, Senator Gaylord Nelson, a democrat from Wisconsin, created Earth Day as a way to force this issue onto the national agenda. (from the EPA website)Earth Day is about respecting our planet and controlling climate change, being nice to our planet. But to be nice to our planet, we need to be nice to ourselves too. So this Earth Day I'm celebrating returning to a healthy lifestyle, because the pandemic sent me into a uneasiness I found it difficult to climb out of.
On the last day of my anniversary week, I'm looking forward to completing my third week of working out six days a week. When the pandemic began I thought I'd be working out constantly because there was nothing else to do. And while I did participate in virtual yoga classes with my yoga studio and joined Apple Fitness+ for online weight training and yoga classes, I settled into a malaise and found it impossible to work out consistently. I wanted to train for my first marathon this year in Hawaii – both the Honolulu Marathon's 50th anniversary and a big birthday for me. But as a fair-weather runner I rarely was interested in running outside with the cold, the rain or the humidity. I still wasn't comfortable going back to a gym. And I kept beating myself up for all of this, continuing the cycle.
But something clicked at the end of March. I told myself it was okay to adjust my goals. I didn't have to run my first marathon this year. Next year would be just as good. So what could I do to get myself back into a work out routine and build up my endurance again? I needed a plan and on the first Sunday in April I came up with one. I didn't wake up planning to develop a plan, I just found myself looking outside and thinking "It's time." I rejoined my Spinning/Fitness Studio and reserved two spinning classes. I scheduled two yoga classes online and I downloaded new Apple Fitness+ classes. And more importantly I started working out again every day, with one day off each week. It wasn't actually very hard once I made the decision. I love exercising so I was returning to something I enjoyed.
What is equally nice about working out again with a mixture of in-person classes and live streaming yoga is feeling like the part of communities again. I'm talking to new people at the fitness studio. I found a new yoga teacher in DC whose classes that my good friend in Seattle and I can take together. I'm taking yoga with my favorite yoga teacher again online live. I am looking forward to every workout. And I am eating better, drinking more water and just feeling better all around. Work has continued to be insane and full of deadline after deadline even during the pandemic, but I'm finding myself not being quite so overwhelmed. And it is likely no surprise that in the past three weeks I have only had one full-blown migraine and one partial, when I was dealing with almost daily migraines for the past year.
So on Earth Day, stop beating yourself up. Allow yourself to adjust your work outs, your eating style. Add one new work out, drink more water. If you feel better, you can take better care of yourself and the planet. I am celebrating my 11th work anniversary and the 52nd Earth Day by working as usual, followed with a Happy Hour Earth Day Party at my fitness studio followed by a new yoga class. I will talk to at least one new person and I will drink a lot of water from my reusable thermos. Happy Earth Day!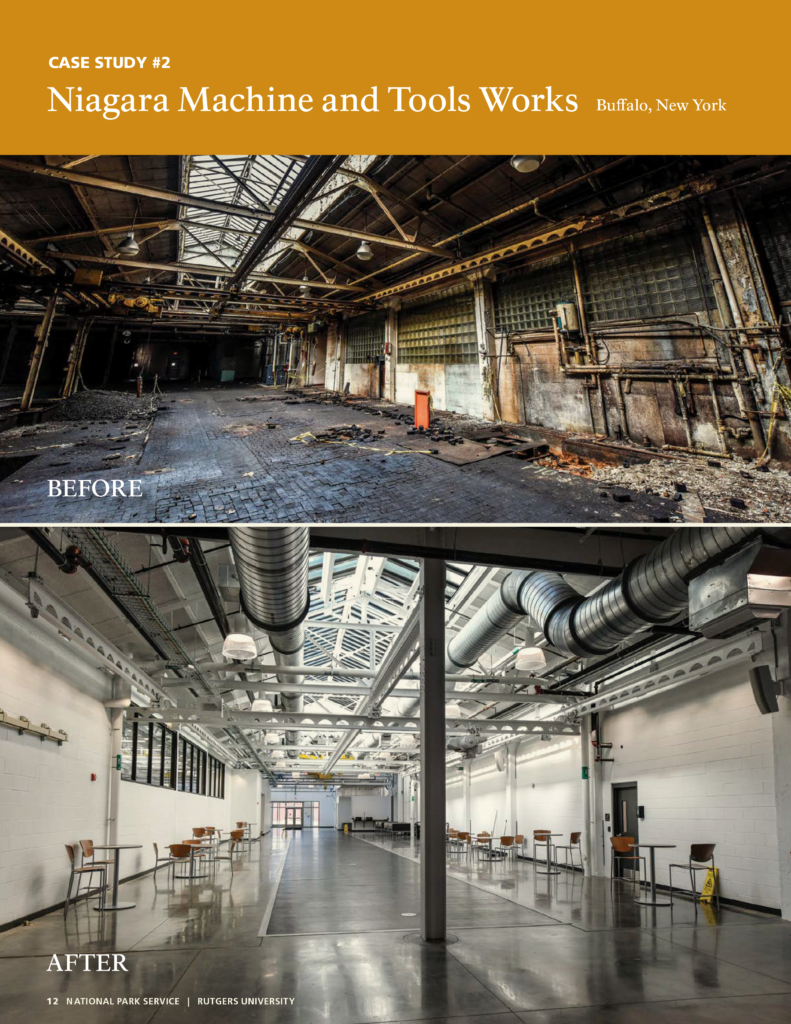 Celebrating Ten+ Years!  It's been eleven years since I launched Barbara A. Campagna/Architecture + Planning, PLLC and while many things have changed, my goal to work on "greening what's already here" continues to be met, often in places I never expected. 
Celebrating an Important Neighborhood-Changing Project
Great projects are sometimes honored for years. And we are finding that our transformation of the Niagara Machine & Tool Works Factory on the East Side of Buffalo is one of those projects. It is perhaps one of the projects that I am most proud of in my career because it not only revived a long vacant historic factory, it reactivated an entire community with its new uses of a workforce training center/community college and light manufacturing.
Each year the National Park Service evaluates the impact of the historic preservation tax credits on the American Economy: Only three case studies from around the country are included in the 2020 report which was published in 2021 and the Northland project was one of them! Annual Report on the Economic Impact of the Federal Historic Tax Credits for Fiscal Year 2020 prepared by the National Park Service. As per the report: Its reuse as an energy and manufacturing educational center maintains the industrial significance and aesthetics of the complex. The rehabilitation was the first step in the revitalization and reuse of one of Buffalo's great historic factory districts, and it served as a catalyst for the rehabilitation of two other factory buildings and planning for infill housing in the area.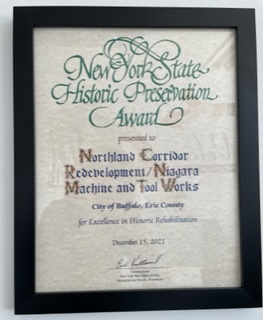 The project also won the significant New York State Historic Preservation Award for Excellence in Historic Rehabilitation for the Northland Corridor Redevelopment/Niagara Machine and Tool Works.  It's the highest preservation award given out each year in New York State.  I have been fortunate to win this award for two other projects in my career and each one has made a big difference in preservation in New York State. 
This project had a stellar team, led by the Buffalo Urban Development Corporation and prime A/E Watts Architecture & Engineering. I continue to be honored and grateful that I was invited to be the preservation architect on this project.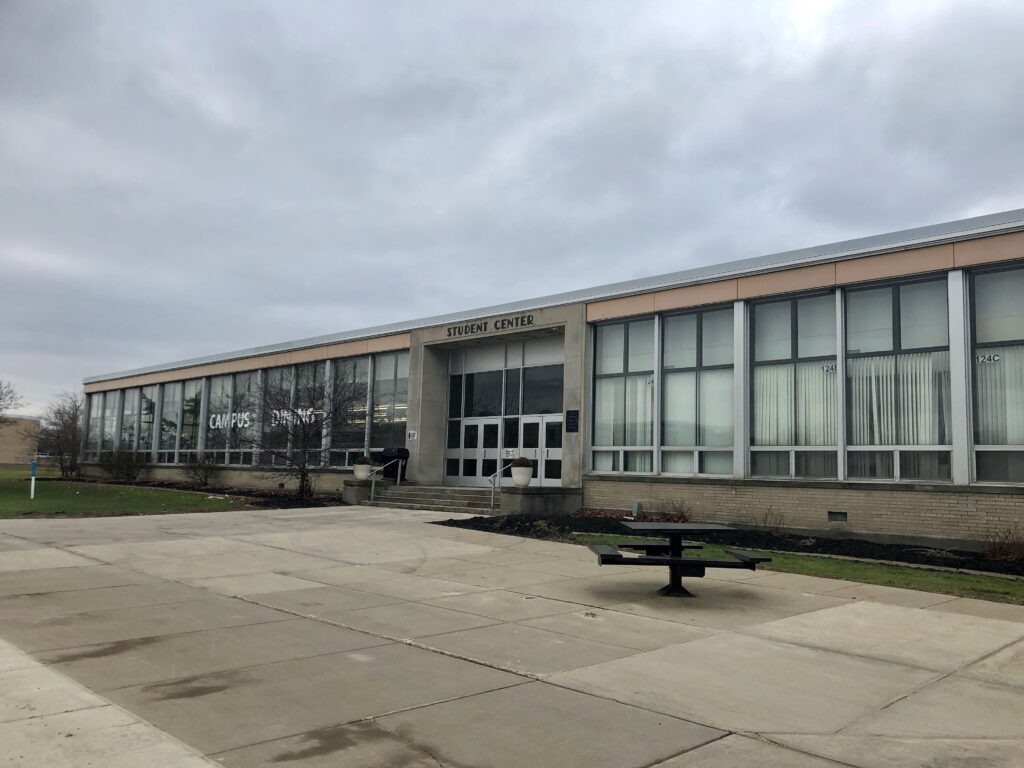 Celebrating Ten+ Years! It's been eleven years since I launched Barbara A. Campagna/Architecture + Planning, PLLC and while many things have changed, my goal to work on "greening what's already here" continues to be met, often in places I never expected.
Why Is A State Board of Regents' Post-War Community College Important?
We worked with Erie County Department of Public Works and Watts Architecture & Engineering to design the rehabilitation of the exterior of the Spring Student Center at SUNY Erie (Erie Community College North) in Williamsville, NY.  The campus, including the Spring Student Center, has been determined eligible for listing in the State and National Register of Historic Places. This project is using New York State funding and is therefore being evaluated under NYS Section 14.09. BAC's primary role was conducting the Section 14.09 review (NY State's version of Section 106) and providing preservation design recommendations.
The new Erie County Technical Institute buildings were designed by the noted Buffalo architecture firm Duane Lyman Associates and erected between 1958 and 1960 under the direction of the general contracting firmSiegfried Construction Company of Buffalo. Designed and sited to make travel between buildings as short as possible, the suburban campus encompassed five buildings including the Spring Student Center which was designed as the campus book store and coffee shop.  It was named after Laurence E. Spring, second president of Erie County Technical Institute.
Three years later, campus enrollment had already reached the maximum number of students that could be accommodated and pressure was building for new campuses in the City of Buffalo and southern Erie County. The Buffalo architecture firm of Kideney, Smith & Fitzgerald, specialists in educational and other public facilities, was hired in 1965-66 to develop plans to double the campus's size and enable ECTI to accommodate new liberal arts programs. Constructed 1967-69, the campus expansion resulted in the following changes to Spring Student Center – A large new entrance was constructed to better accommodate students, the bookstore was enlarged, expanding into the former coffee shop space, and an addition was constructed at the eastern end to accommodate a new coffee shop.
(The following 2 paragraphs are Extracted from the Determination of Eligibility prepared by Daniel McEneny, NYSOPR&HP.)
The buildings of the Erie Community College North Campus appear to be eligible for listing in the State and National Registers of Historic Places as relatively intact original manifestations of the early development and expansion of the community college and state university system in New York State. 
The Erie Community College North Campus meets Criterion A in Education for the important role it played in the education of World War II veterans. As one of the first five community colleges in New York State, it was also part of statewide efforts to adapt and expand the state educational system to meet the immediate and rapidly changing demands of a widening pool of students as well as increasing business needs for employees skilled in new and emerging fields and technologies. The North Campus buildings also meet Criterion C in Architecture in whole and in part as a prototypical suburban community college campus in New York State as well as its place in the development, suburbanization, and expansion of the community college system in New York State. It is also important to note that the campus was also one of the last architectural commissions of the noted Buffalo architect Duane S. Lyman and Duane Lyman Associates (1958-60) as well as the work of the Buffalo architecture firm Kideney, Smith & Fitzgerald (1967-1969 expansions, alterations and new building). Both firms specialized in the construction of educational and public institutions and have many commissions and National Register listings in the Buffalo vicinity.
Character Defining Features
As a conservative International Style one and two-story building representing new formalism of the 1950s/1960s, the following architectural features are considered character-defining. Both construction periods reflect a fairly conservative modern style, blending the International Style that was prevalent during the 1950s for commercial and institutional buildings with the new formalism emerging during the 1960s. The additions and new construction dating to the 1960s are architecturally distinct and do not generally obscure or destroy the significant, character defining architectural features dating to the original construction period. The 1950s building's character defining features include:
Largely single-story buildings;
Large, formal central entrances;
Raised, patterned brick detailing in buff-colored brick;
Flared, canted aluminum door frames with rolled profile moldings;
Ribbons of paired aluminum windows set into single story facades.
Rehabilitation Approach
The exterior rehabilitation of the Spring Center includes the replacement of HCM-containing (hazardous containing materials) aluminum windows, curtain wall and doors to match the original as closely as possible; repair of exterior masonry and the alteration of the Dining Hall wall on the North Elevation facing the Quad to accommodate a new entrance to a new outdoor terrace.  Minor alterations are being proposed to the entrances on the South Elevation to better welcome students, faculty, staff and visitors who typically use these entrances from the parking lot adjacent to the building.  The State Historic Preservation Office approved the Section 14.09 submission and alterations in February.  Construction should begin in 2023.  
© Copyright Barbara Campagna – True Green Cities - 2011-2013